SmartDraft Suite, Survey, PConnect, Construction Notes, and HEC-RAS Tools
Free Trial Offer: Try SmartDraft and Ignite your productivity. The 30-day trial is a fully-functional version of SmartDraft. To continue using the software after 30 days, purchase of a license is required. To install: download and run SmartDraft 17.exe. The software can be installed locally or on a network. Every workstation requires a license or a site license can be purchased to cover all workstations in a single location.
Note: Current subscription clients can request an authorization code for SmartDraft by sending a request via e-mail: Authcodes.
SmartDraft for AutoCAD
SmartDraft 17: Supports AutoCAD® Civil 3D® 2009 - 2018, AutoCAD® 2009 - 2018, AutoCAD® Map 3D 2009 - 2018, and AutoCAD® Land Desktop 2009.
SmartDraft 17.exe (81.3 MB) Version 17.1.1 released November 28, 2017.
Important! Readme17 (310 KB .pdf) Installation instructions and known installation issues.
Information: The SmartDraft installation no longer automatically loads the cui or cuix menu. Manually load the menu. After the installation, using the CUILOAD command, browse to the smartsuite.cui or smartsuite.cuix in the installation folder.
Warning for AutoCAD 2014 to 2018: When you load the SmartDraft menu for the first time, the File Loading - Security Concern dialog box may appear. If it does, you must select the Load button for SmartDraft to work correctly. Note: The listed file could be smart.mnl, smarthydro.mnl, smartpconnect.mnl, smartsuite.mnl, or smartsurvey.mnl.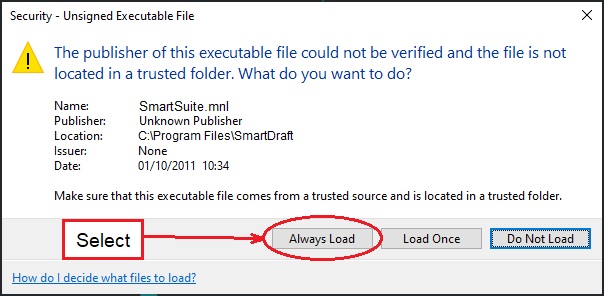 SmartDraft 17 Manual (21.3 MB .pdf) Printable manual for the SmartDraft Suite
The SmartDraft 17 Help manual also provides instruction and hyperlinks to SmartDraft on-line video demonstrations for Survey, PConnect, Construction Notes, HEC-RAS Tools, Associate Survey Working Folder, Inquiry Tools, Inverse Points, Text Tools, and View Tools (and includes descriptions of all SmartDraft tools).
SmartDraft 17 PConnect Manual (2.7 MB .pdf) Printable manual for the SmartDraft PConnect
SmartDraft Suite History, Survey History, PConnect History, Construction Notes History, and HEC-RAS Tools History
SmartDraft for BricsCAD
SmartDraft 17 for BricsCAD: Supports BricsCAD® v14 - v18
SmartDraftBC 17.exe (64.8 MB) Version 17.1.1 released November 28, 2017.
Links
SmartDraft Previous Releases
Download Previous Releases for AutoCAD 2009 - 2017